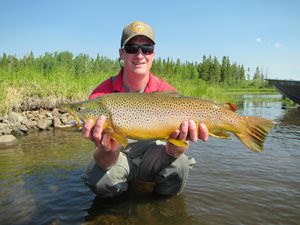 Aquatic invasive species like zebra and quagga mussels are tiny but resilient. Once introduced, eradicating them from a water source is extremely difficult — if not impossible. Luckily, Wyoming is still mussel-free. But if the invasives ever are transported into the state, the harsh winters and freezing temperatures would hardly slow their ability to persist.

Research shows mussels are impacted by temperature and will die if exposed to either of the extreme ends of the thermometer. However, freezing temperatures may only kill a trivial amount. Mussels attached above the waterline to structures like docks, rocks or boats might die if exposed to freezing temperatures for three days. But, freezing isn't a dependable way to kill a mussel.

For boaters, mussels surviving the winter onboard their watercraft is rare but possible. Attached mussels can survive up to 30 days out of the water if the temperature is warm enough, and longer if they have a little water. Further surprising, recent research from the University of Idaho showed juvenile mussels can survive in boat motors after winterized with antifreeze.

AIS specialists know mussels have an upper temperature limit and use that to their advantage. Larval mussels can't survive in water more than about 90 degrees Fahrenheit. So, in Wyoming, boats that require decontamination are treated with hot water. Specialists spray the outside with 140-degree water and flush motors with 120-degree water. Living mussels die in about 10 seconds.

Boaters should follow the clean, drain, dry processes each time they use their boats. It's crucial, and the law, to have your boat inspected before launching.
Josh Leonard
Aquatic Invasive Species Coordinator