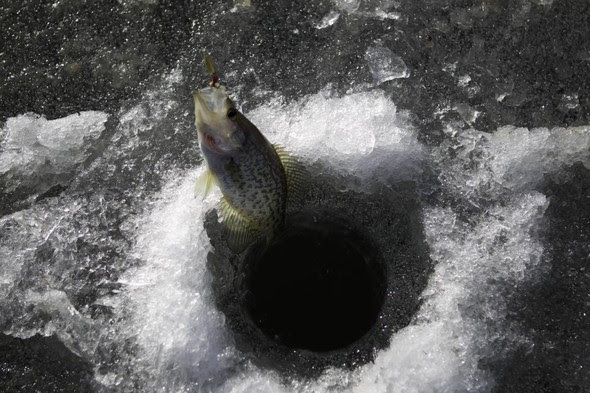 Register today to attend a free MDC ice fishing workshop at Hunnewell Lake Conservation Area on Feb. 8.
Register to attend this FREE Discover Nature – Fishing workshop and learn on-the-ice fishing techniques.
HUNNEWELL, Mo. — The Missouri Department of Conservation (MDC) will offer an ice fishing workshop in Hunnewell, 8 a.m.–noon, on Feb. 8. This free workshop will take place at the Hunnewell Lake Conservation Area, located at 6503 Highway Z in Shelby County.
This Discover Nature — Fishing workshop will address basic ice safety, equipment instruction, fish identification, and hands-on experience fishing on the ice. MDC will provide all bait and tackle, but participants are welcome to bring their own gear. Participants are encouraged to bring ice cleats, a chair or bucket to sit on, and a packed lunch as there are no local dining options. Participants will need to dress in layers as the first part of the workshop will take place in a heated building followed by an outdoor portion in potentially frigid conditions.
During the classroom portion, participants will learn about ice safety, fish identification, habitat identification, equipment, and ice fishing regulations. Immediately following the classroom presentation, participants will have the opportunity to venture out onto the ice to practice skills, weather and ice permitting. In the event of insufficient ice cover, the clinic will continue with participants fishing from the ADA dock and catwalk. The class will be canceled in the event of hazardous weather, including freezing rain or heavy snow.
Beginners of all ages are welcome, but participants younger than 16-years old must be accompanied by an adult. Fishing permits are not required to participate in the workshop, but if individual anglers wish to keep the fish they catch, or continue fishing after the workshop is over, they will need to purchase a Missouri fishing permit prior to the class, available at missouriconservation.org/permits.
Space is limited for this popular event, and participants must preregister at mdc-event-web.s3licensing.com/Event/EventDetails/171483. For more information, contact Tony Messina at (573) 248-2530 or Tony.Messina@mdc.mo.gov.
MDC works with Missourians to provide educational opportunities and enriching outdoor experiences all year long. Ice fishing allows anglers to extend their fishing season and continue to harvest legal game fish species using unique methods. Learn more about MDC's Discover Nature — Fishing programs at short.mdc.mo.gov/Z4y.