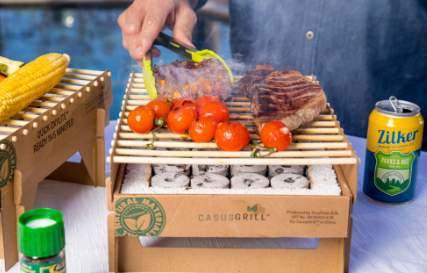 Words such as "convenient," "disposable," and "single-use" aren't usually associated with environmental stewardship. That's changed with the introduction of a clever compostable contraption called CasusGrill.

Direct from Denmark, where it has won awards for design and simplicity, CasusGrill provides a simple, economical solution for anyone who wants to experience healthy cooking outdoors without the hassles of conventional grills.

Made from cardboard, bamboo, and lava stone, CasusGrill lights with a match and heats to 600°F within minutes – a perfect temperature for cooking meats, fish, and vegetables. It stays hot for an hour or more and is sized to cook enough food for four hungry adults.

When you're done, simply douse it and toss it in the trash, burn it in the campfire, or bury it in good conscience. The 2-pound package biodegrades within six months.

When you are ready to grill again, there's no gross, rusty, carbon-caked metal grill grates to clean, and no unhealthy lighter fluid or dangerous and wasteful propane tanks to mess with. Just open another CasusGrill (retail, $14.95 each, less in bulk) and start fresh, anywhere in the great outdoors.

"There's a lot of engineering and ingenuity that have gone into everything in the grill," says Maher Hakim, CEO of LavacaUSA. "It is very unique."

For instance, the heat source. The flame-free Oxylight™ bamboo charcoal cakes are made from bamboo sawdust formed into a ring that lights with a match and reaches even grilling temperatures in five minutes. Along with the bamboo grates, lava stone, and cardboard packaging, all the materials are 100 percent natural and sustainable.

CasusGrill was invented by a Danish couple and designed to be "very millennial, very convenient, very portable, and very environmentally responsible," Hakim says. With no fossil fuels, it produces 50 percent less CO2 emissions than conventional grills. The packaging is biodegradable except for the lava stone, a safe, natural material used to improve soil. It won't rust or take up landfill space like bulky metal grills with their propane and butane tanks.

"It's made to be minimalistic. That's the whole philosophy of the product," Hakim says. "So: minimal ink, minimal cardboard, minimal charcoal, minimal lava stone, minimal everything."

CasusGrill is designed to appeal to day hikers, backpackers, cyclists, anglers, hunters, campers and sports enthusiasts – anyone who loves cooking and eating outdoors. It's easy to use, even for people who have never grilled before, because it always produces the same reliable heat without flames.

"It's very precise grilling from start to end," Hakim says. "That empowers everybody and especially women who may not have been into the grilling scene just because of all the hassle."

CasusGrill's virtues for delicious and healthy cooking are extolled by celebrity chef Jack Allen Gilmore of Austin, Texas and health coach and author Thomas DeLauer.

Whether it is used to cook steak, burgers, seafood, poultry, or grilled vegetables, the grill imparts a flavor that will make a believer out of anyone. All it takes is one try and most people are amazed at how simple, safe, and easy it is. The compact, 2-pound package makes grilling simple anywhere, from scenic mountain overlooks to golf courses, city parks, or the backyard.

"Everybody has a love for a certain outdoor activity," Hakim says. "And even when you're backyard grilling, there are times when you just need something quick and convenient."
With CasusGrill, quick and convenient and environmentally sustainable are not mutually exclusive.

"We calculate everything with a good conscience to make sure that we have the best green footprint of any product," he says.

For more information, visit www.casusgrillusa.com.