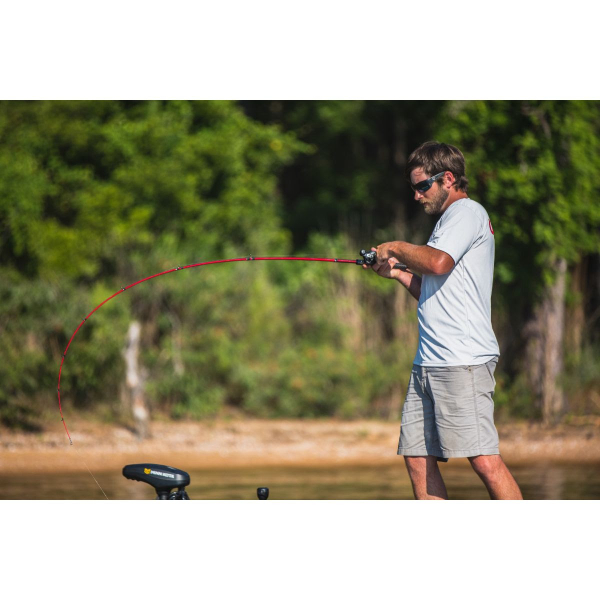 COLUMBIA, S.C. – Ugly Stik® announces the new Ugly Stik Carbon rod, the lightest Ugly Stik ever. The rods feature a new carbon technology crafted of 100 percent 24-ton graphite, which allows the new rods to be lightweight and 37 percent stronger than other standard graphite rods, while still delivering the time-tested toughness that has been the hallmark of the Ugly Stik brand.

The new Ugly Stik Carbon series marks a major improvement in rod handling and sensitivity for the brand, and the series also encompasses other performance qualities that raise the bar for the brand in terms of features and benefits. The rods feature Ugly Tuff™ stainless steel guides and the highly popular WINN® split grips for added comfort and control.

"The new Ugly Stik Carbon series handles like no Ugly Stik before it," said Andrew Wheeler, director of global brands for Ugly Stik. "These rods have the feel and performance of rods that come at a higher cost and don't have the proven durability of an Ugly Stik. When people get their hands on these rods, they are blown away by their light weight and corresponding sensitivity and balance."

The Ugly Stik Carbon series is expected to be available in retail stores in November 2019. The series includes casting and spinning rods, as well as spinning combos and baitcast combos—both of which include the Abu Garcia Black Max reel. Upon release, the new rods and combos will range in price from $79.95 to $119.95.

About Pure Fishing, Inc.
Pure Fishing, Inc. is a leading global provider of fishing tackle, lures, rods and reels with a portfolio of brands that includes Abu Garcia®, All Star®, Berkley®, Chub™, Fenwick®, Gulp!®, Hardy & Greys™, Hodgman®, Johnson™, Mitchell®, PENN®, Pflueger®, Sébile®, Shakespeare®, SpiderWire®, Stren®, Trilene® and Ugly Stik®. Additional information can be found at www.purefishing.com.

Media Contacts:
Heather Miller, (864) 607-7922, heatherm@gunpowderinc.com
Courtney Vander Veen Mich, (414) 305-2588, courtney@gunpowderinc.com