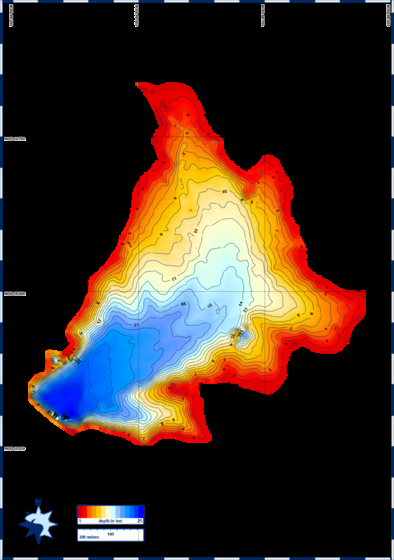 Have you ever wondered what the bottom contour of your local AGFC lakes look like? The AGFC's District 10 staff have begun the process of collecting bathymetric data and creating maps for AGFC lakes in Central Arkansas.
Bathymetry is the study of the underwater terrain, or the 'floor' of water bodies. The process of creating a bathymetric map involves developing a grid on each lake, collecting sonar data, and converting the sonar data with computer software to create a map of the lake bed. This is a simple and straightforward process but also a very time-consuming project. We feel the effort is worth it because it provides anglers with important information that helps them catch fish. So far, we have created maps for lakes Cargile (Conway County), Barnett (White County) and Tom's Lake (White County).
Next summer we will scale up the process to develop maps on some of our larger (greater than 1,000 acre) AGFC lakes such as Overcup and Harris Brake. If you would like to have a copy of one of the three lakes we have mapped, please contact District 10 Management Biologist, Matt Schroeder, at Matthew.Schroeder@agfrc.ar.gov and we will send them your way. Stay tuned for updates on this project next summer.