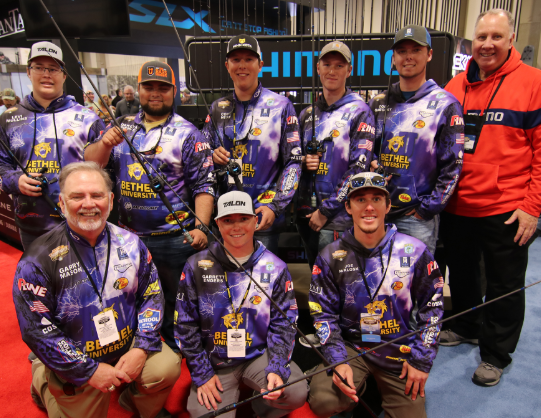 Members of the Bethel University bass fishing team gather together with their coach Garry Mason (front row right) and Shimano's Frank Hyla (top row left) at the SLX rod and reel display at the recent Bassmaster Classic Expo in Knoxville, Tenn. Team members will be using the SLX tackle at college tournaments during the 2019 season
LADSON, S.C. – The college known for its exceptional support to its student bass fishing teams now has support from one of the leaders in the bass fishing industry. While competing on the ACA Collegiate Bass Fishing circuit, the Bassmaster College Series, and the FLW College Fishing Series during the 2019 season, the Bethel University teams will be casting SLX baitcasting reels and rods, Shimano's new 'Can't Stop Fishing' series introduced at the 2018 ICAST Show and which have quickly become a favorite among avid college and high school bass anglers.
"When we launched the Shimano Varsity Program in 2016, we reached out to Bethel coach Garry Mason for his input and ideas on Shimano's involvement in this still fast-growing segment in the bass fishing world," said Frank Hyla, Shimano's Youth Fishing Coordinator. "Bethel anglers have been using Shimano and G. Loomis tackle in past years, and this new effort allows all team members to have that same opportunity using Shimano's new 'Can't Stop Fishing' rod and reel option. It was our pleasure to have many members of the Bethel bass team visit with the Shimano staff and many of our pro anglers at last weekend's Bassmaster Classic Outdoor Expo, where Bethel anglers Garrett Enders and Cody Huff also competed in the Bassmaster College Classic."
With SLX reels offered in three different gear ratios and in both right- and left-hand retrieve, and SLX rods available in nine casting and seven spinning models, "the Bethel team can be ready with the right tackle whether they are fishing shallow at the FLW college championship on the Potomac River, or dealing with deep-water techniques at Lake Shasta on the Bassmaster circuit," Hyla said.
Known for being the first college or university to offer scholarships to be a member of its bass fishing team, Bethel University in McKenzie, Tenn. is a perennial power in the sport. "They have proven over the past 10 years that their student-athlete anglers not only do very well in the classroom, but can compete also on the water at a national level against schools like the Auburn University, the University of Missouri and Oklahoma State University," notes Hyla.
Shimano's new SLX reels and rods – all priced at $99.99, are now available through tackle retailers both in the U.S. and Canada. For more information on Shimano tackle and the Shimano Varsity Program, visit:http://fish.shimano.com.