From NOAA Fisheries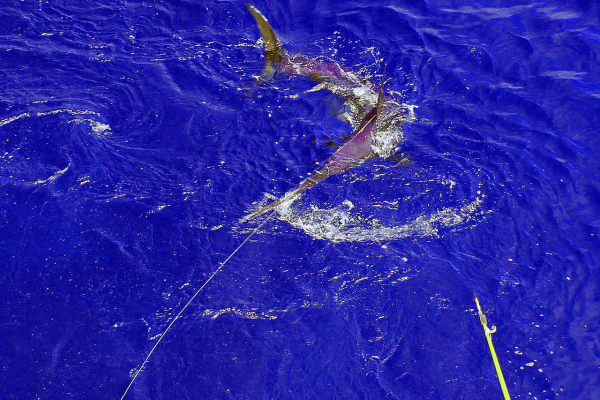 Recreational fishing for swordfish off southern California has surged over the last year. Fishermen have started borrowing a strategy from East Coast anglers and the commercial fishing world: going deep during the daytime.
Tagging and tracking research by NOAA Fisheries and the Pfleger Institute of Environmental Research (PIER)
revealed that swordfish spend most of the day at depths greater than 700 feet. Commercial fishermen on the West Coast originally began fishing in deeper waters for swordfish. They used buoy gear in part to avoid protected species such as sea turtles and marine mammals.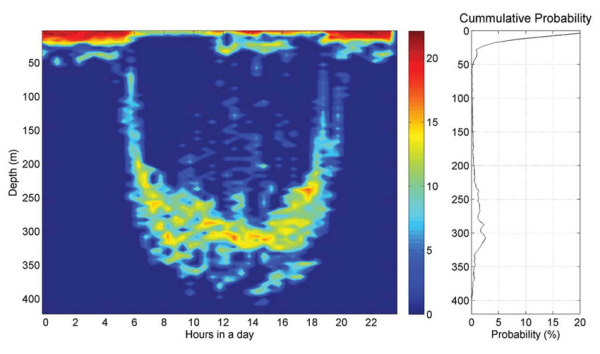 Figure: Depth distribution in meters of five tagged swordfish over a 24 hour period. Modified from Sepulveda et al. 2014. Read the study.
Now recreational anglers on the West Coast have caught on to the technique and have seen their catches increase dramatically. Chugey Sepulveda, PIER Director and Senior Scientist, said anecdotal numbers suggest that recreational swordfish catches off southern California have jumped. They've gone from fewer than 30 in a typical year to hundreds in a matter of a few months. "It's been a real boost for the recreational fleet because it now offers anglers a new and exciting quarry that was previously considered extremely difficult to target," he said.
Research shows that swordfish spend most daytime hours at depths of 700 to 1,400 feet, coming only occasionally to the surface. Recreational fishermen had once primarily pursued them only when swordfish were spotted basking on the surface. Days of excitedly dragging a bait in front of a sunning swordfish have turned into long days of staring at rod tips.
"Swordfish have always been considered the pinnacle of fishing success since the days of Zane Grey," said Bill DePriest, publisher and editor of Pacific Coast Sportfishing Magazine. "Now it's something more people are experiencing."
Catch and Release Ethic Emerges
As catches have increased, many fishermen are now discussing bag limits and potential catch-and-release measures to prevent exploiting the swordfish stock, Sepulveda said. Swordfish populations in the North Pacific include two stocks: an eastern Pacific Ocean stock and a Western and Central North Pacific Ocean stock. There continues to be discussion as to which stock southern California fish belong. This is one reason why Sepulveda and his team have headed up NOAA Fisheries-sponsored research on stock structure.
The 2018 stock assessment for the Western and Central North Pacific Ocean swordfish stock found off the West Coast shows that the stock is not overfished. It is also not experiencing overfishing. The assessment also found that the stock can support more fishing while remaining sustainable. It found that the biomass shows "a relatively stable population, with a slight decline until the mid-1990s followed by a slight increase since 2000."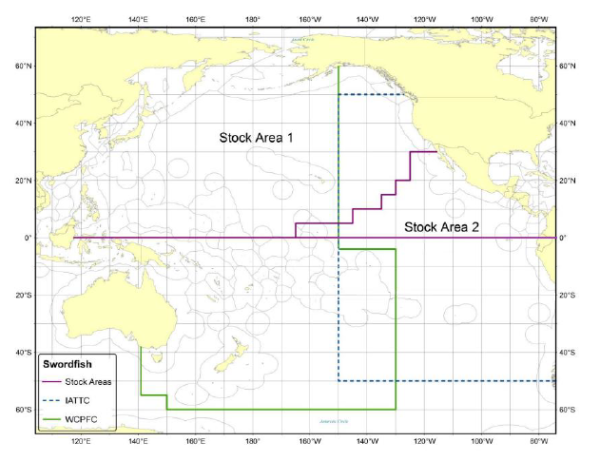 Figure. Map showing the boundary designations for the Western and Central North Pacific Ocean swordfish stock (Stock Area 1), Eastern Pacific Ocean swordfish stock (Stock Area 2), and regional fishery management organization convention areas. From the 2018 Stock Assessment for Swordfish in the Western and Central North Pacific Ocean. Learn more about the Billfish Working Group
Recreational fishermen have employed similar methods on the U.S. East Coast and other areas. Recreational anglers on the West Coast have caught on to the strategies and techniques more recently as the new deep set commercial fishery has taken off. The main season for swordfish off southern California is roughly from late summer into winter, DePriest said."It's a healthy hobby. And with swordfish, it's definitely always exciting," DePriest said. "It's great to see so many people interested."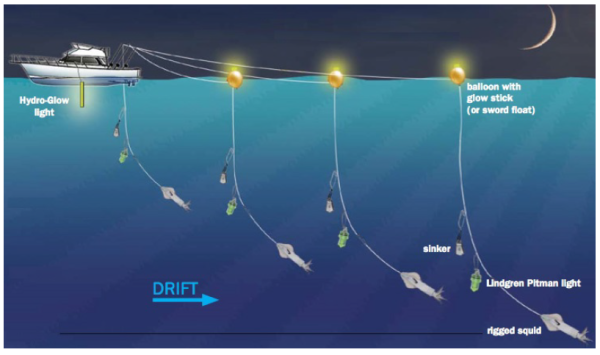 Figure. Example of hook and line gear using surface floats and permanently attached to rods on board the vessel. This illustrates night fishing off the East Coast, but is very similar to the way recreational anglers are fishing for swordfish off the West Coast during the day. Image modified from On The Water
Pacific swordfish are highly migratory and often travel thousands of miles across international boundaries. Since many nations target the species, effective conservation and management requires international cooperation as well as domestic attention.
Scientists are now seeking funding for a study to collect more data on the growing recreational fishery. Data is needed to evaluate the survival of swordfish that are caught and then released. While there are best practices for choosing the right gear and handling with care when catch-and-release fishing, survival rates vary by species.
Recreational anglers can also contribute to swordfish research by participating in our Southwest Fisheries Science Center's Cooperative Billfish Tagging Program. The program, started in 1963, provides tagging supplies to anglers. It helps us better understand movement and migration patterns, species distribution, and age and growth. Anglers tag the fish before releasing them.